Where do you get your inspiration for interior space?
Living in such a diverse city as Toronto sparks my imagination. Being a curious person, I find many things in my daily routine that captures my interest. I also love travelling, which is always inspirational. Social media/ technology has allowed me access to global trends which also influences my approach and aesthetic.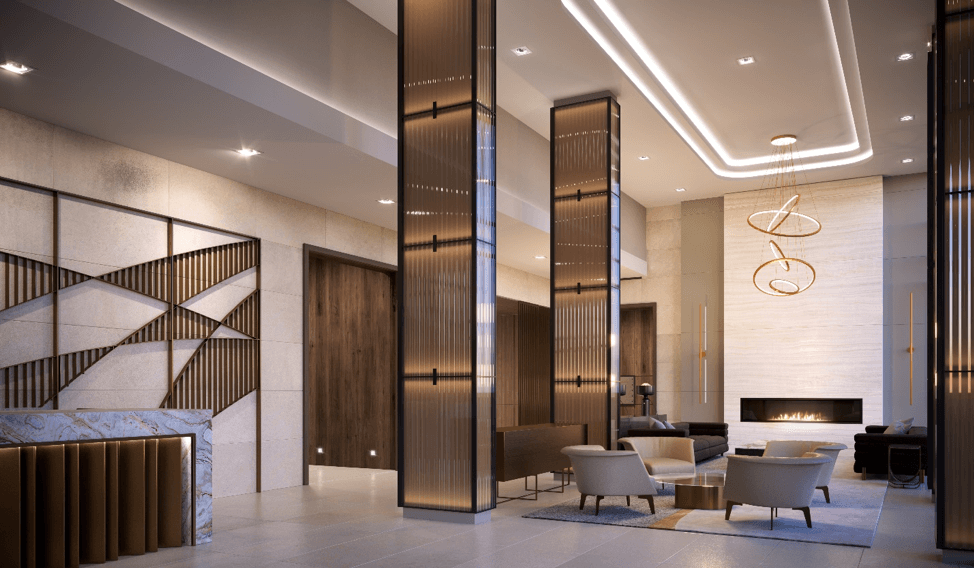 What was your overall vision for 8888 Yonge?
The overall vision is to create a sophisticated and timeless look with contemporary touches that would appeal to a broad demographic, while also conveying a relaxed luxury flavour that residents can embrace.
"We approach each project with fresh eyes and encourage clients to engage in a dialogue with us."
Do you have a signature design style?
I have a personal style as most people do, but as for a studio 'signature look' goes, I don't think we have one. Our portfolio runs the gamut from contemporary to traditional, and everything in between. We approach each project with fresh eyes and encourage clients to engage in a dialogue with us. Ultimately, we aim to create designs that are tailored to the client's needs and desires.
What is the aesthetic theme for 8888?
A look and feel that expresses a relaxed luxury through layers of natural materials, such as wood and marble, which most people respond to in a positive way. We then incorporated chic bronze architectural details to create a statement amongst comfortable contemporary forms, all within a neutral serene scheme keeping the environment warm and inviting.
In vertical communities, amenity space is an extension of resident's lives. How does the amenity space at 8888 inspire people to live?
There's an abundance of amenity space which allows residents to enjoy multiple recreational areas and activities. A co-working area adjacent to the main lobby is perfect for informal meetings or individual computer work, while the lobby lounge offers a relaxing place to catch-up on emails while residents wait for their Uber or cab. The 8th floor offers tranquility via yoga, fitness and social areas that foster interaction with other residents. The large terrace situated directly off the 8th floor, provides a seamless extension of this social lifestyle with comfortable seating and dining all within a serene palette.
Kelly Cray is a partner and design principal at U31, the award-winning interior architecture and design studio responsible for the luxurious interiors at 8888 Yonge.
Register with us today to learn more about 8888 Yonge, coming soon to Richmond Hill. Don't forget to follow us on Facebook , Twitter, and Instagram for regular updates.