Although there are myriad ways to play in vibrant Richmond Hill, its nightlife and dining scene loaded with options for seasonal socializing, there's nothing quite like going the DIY route and hosting a house party. Luckily at 8888 Yonge, you've got ample amenity space to spread out if you need to, for Christmas or Hanukkah festivities—even to ring in the new year.
The grand lobby at 8888 Yonge sets the stage—and the tone—for a warm reception, its comfortable style, sweeping tray ceilings and natural coziness blending to extend the perfect welcome to your holiday guests. But it's at Club 8 on the 8th floor where the real action is.
Set up shop in the Private Chef's Kitchen
A fully equipped seasonal baking zone is party central when it comes to Christmas and Hanukkah baking bees. This kitchen has the muscle to pull together all kinds of treats you'll be creating to celebrate the holidays, whether it's tart-baking or cookie-decorating parties with the children or a sweet-treat assembly line with chums. Not only that, but you can whip up the most exquisite meal here in a flash.
Gather around the table in the Dining Room
When you need to greet more faces than would be feasible upstairs in your condo at 8888 Yonge, extended family dinners in this luxurious private space are the perfect solution. The kitchen is handy, so there's no hauling pots around and clean-up is even breezier. As well, this room is great for informally enjoying a happy-hour wine-tasting, a Sunday brunch or even a board of director's year-end supper—casual, formal or anything in-between.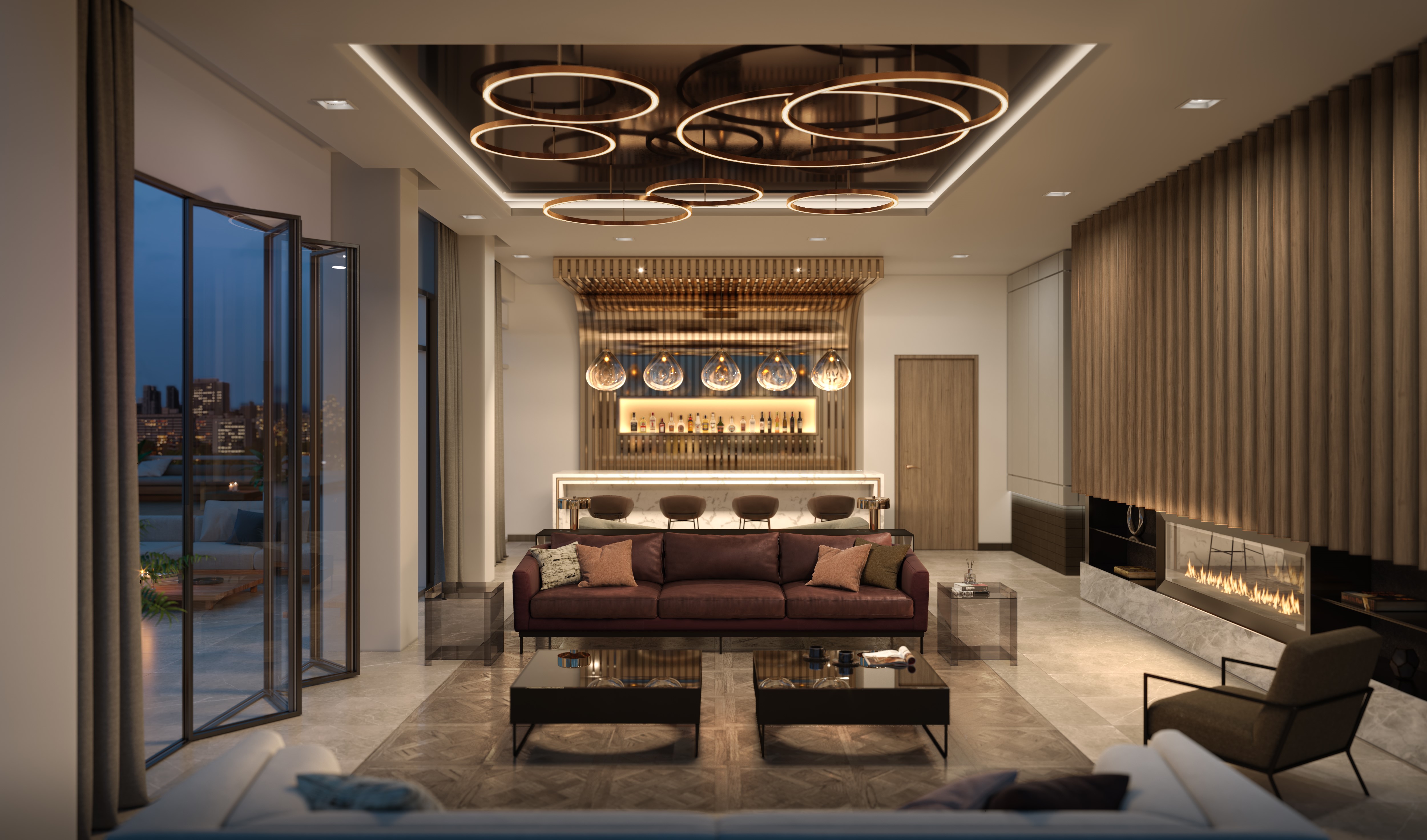 Get social in the Lounge
If seasonal celebrations call for stretching right out, whether you're entertaining the book club, the hockey parents or just neighbours from down the hall, the lounge space at 8888 Yonge fits the bill perfectly. Maybe the invitation list for your annual bash has outgrown your home? No worries. Do you need room to throw a gift-wrapping party or assemble gift hampers for your favourite charity? This is the place. Maybe you're just keeping things simple? Then just open some wine, and set up a light buffet with hors d'oeuvres from the nearby kitchen. Cue the tunes and voilà!
Rack 'em up in the Billiard's Room
This special spot at 8888 Yonge lets you get in a little game of pool with the university gang, the folks from work, your friends down the street or your favourite nieces and nephews. This little retreat works a treat during holiday season.
Let the environment itself do the entertaining
This mixed-use space not only makes holiday get-togethers easy, but it also looks great doing it. Curvaceous and comfortable with its elegant mix of brass, bronze, wood and marble, along with soothing neutral colours, the 8th floor amenities offer a contemporary touch to your seasonal soirées. This natural look of relaxed luxury suits both you and your crowd—intimate and easy to embrace.
These are just some of the many ways your future home can fit perfectly into the rhythm of your life at 8888 Yonge. Ever the innovator, Metroview Developments is making a multi-dimensional impact on modern living in Richmond Hill. Our 30 years of experience serves us well—and we are passing it all on to you.
Register with us today to learn more about 8888 Yonge, coming soon to Richmond Hill. Don't forget to follow us on Facebook , Twitter, and Instagram for regular updates.