With state-of-the-art exercise equipment, a dedicated yoga and Pilates studio, and a tranquil outdoor terrace for rest and relaxation, 8888 Yonge boasts a wide array of convenient lifestyle amenities designed to help you look and feel your best.
Here are eight ways to make the most of all the health and wellness facilities on offer at this new urban development in vibrant Richmond Hill.
1. Stick to a schedule
A proper routine is the key to any successful fitness program. Health experts suggest you need 150 minute of modern aerobic activity a week, but for busy working professionals it can be hard to find time to make it to the gym. Having access to exercise facilities at home (conveniently located just steps away from your front door) means you can stick to healthy habits and find time to sweat even when your schedule is jam-packed. And whether you're an early riser or a night owl, 8888 Yonge's 24-hour fitness facilities make it easy to squeeze in a workout and stick to your routine.
2. Sweat it out
Nothing gets your heart pumping like a high-intensity cardio session. 8888 Yonge's on-site gym features a variety of aerobic equipment that can help you improve your endurance, boost your metabolism and work up a serious sweat. Best of all, you can increase your calorie-burning potential by switching up your activity throughout the week; alternate between the stationary bikes, elliptical machines, treadmills, stair climbers and rowing machines for maximum results.
3. Mix it up
If you want to see a real transformation in your physique, it's important to incorporate at least two days of strength training into your workout schedule. Challenge different parts of your body by mixing up your routine and doing strength-training exercises intended to build lean muscle mass. At 8888 Yonge's boutique-inspired fitness studio, you'll have access to professional weight machines, medicine balls, kettle bells, dumbbells, resistance bands and plenty of workout gear that'll keep you on your toes as you get toned.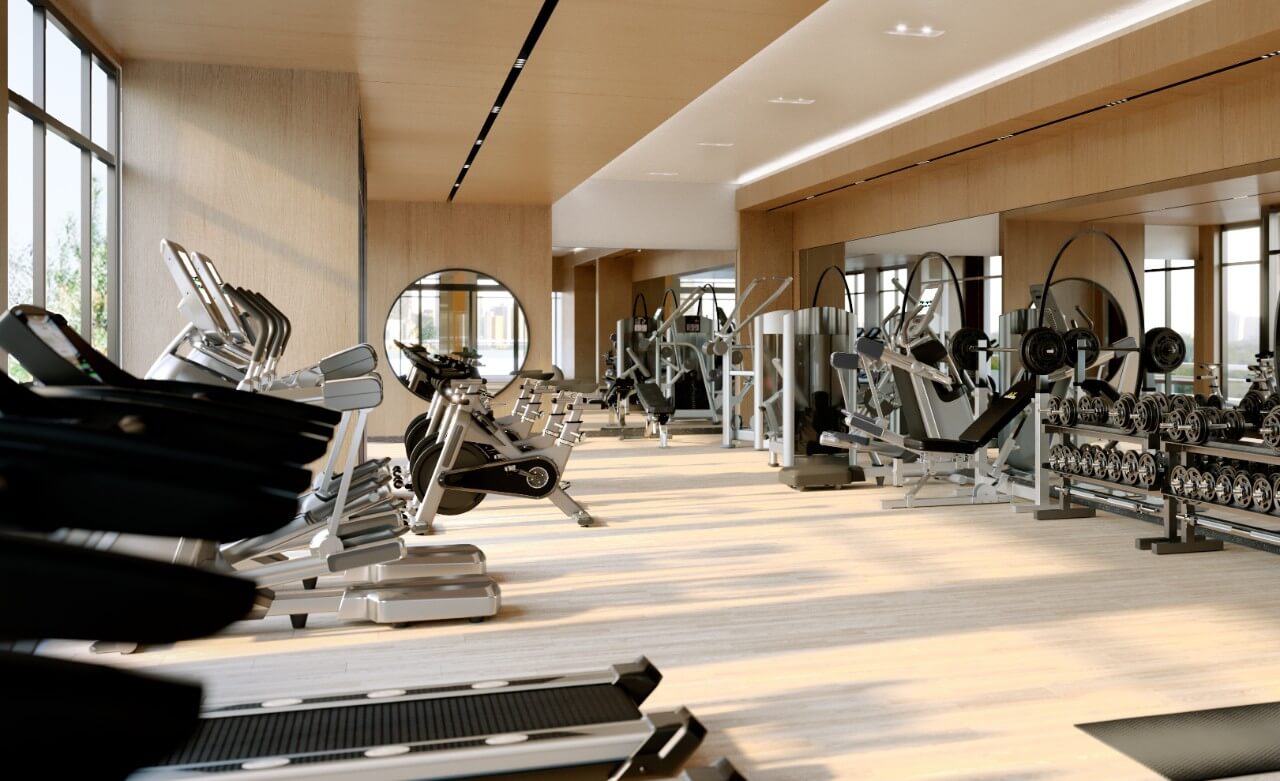 4. Don't forget to stretch
Cooling down after a workout helps to prevent injuries and keeps your muscles strong and healthy. When you need to stretch it out, visit 8888 Yonge's dedicated Yoga and Pilates Studio, a bright and airy space designed to mimic the natural landscape with warm wood tones and plenty of sunlight throughout. Try some deep breathing in downward dog after your workout to increase flexibility, improve your core strength, lower your blood pressure and help with muscle repair. In the warmer months, move your practice outdoors and enjoy an al-fresco stretch session in the 8th floor Zen Garden surrounded by lush greenery.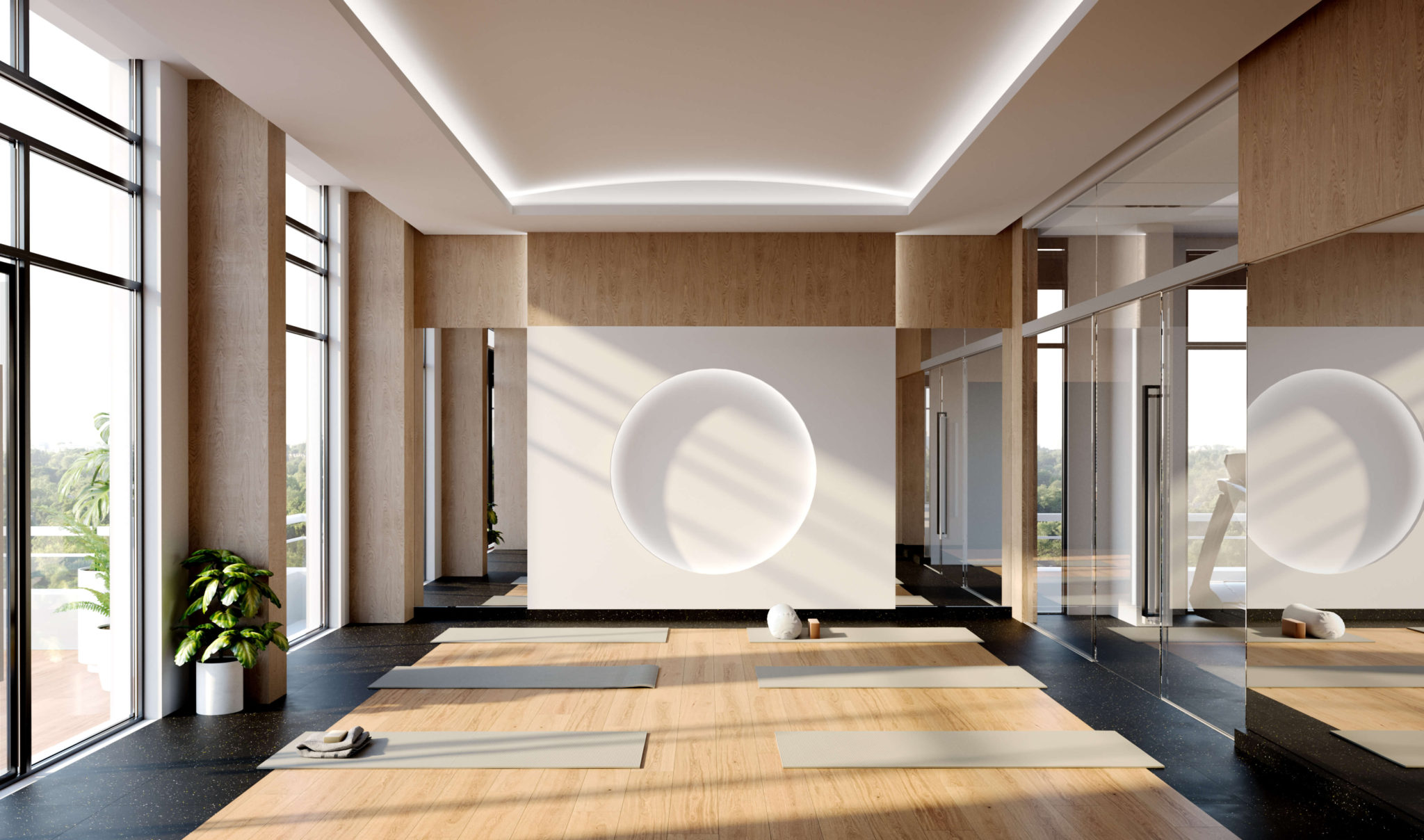 5. Flex your mind muscle
When it comes to optimizing your overall health, taking care of your mental well-being is just as important as your cardio routine. 8888 Yonge's holistic indoor and outdoor yoga spaces offer a quiet place for residents to practice a moment of meditation, which can help you to manage stress, reduce anxiety, focus your mind, work through negative emotions and inspire a more positive outlook on life. Take time to quiet your mind, centre yourself and achieve a state of mental bliss in the serene surroundings of your urban oasis.
6. Find a gym buddy
Need some extra motivation to get yourself off the couch? Link up with your neighbours at 8888 Yonge to join you for regularly scheduled workouts to keep you accountable and ensure your fitness goals are on track. Not only do friends make workouts fun, you'll be less inclined to bail on that early morning treadmill session if you've got a pal waiting on you.
7. Plan a rest day
It's crucial to give your body time to recharge and repair every once in a while. Take time off to indulge in a little self-care outside of the gym while taking advantage of 8888 Yonge's luxurious communal spaces. In the summer months, head to the 8th floor terrace to recline and unwind in a personal cabana on plush spa-inspired sun beds surrounded by the unique landscaping of the abstract garden. When the weather turns cold, move your 'me time' inside and curl up with a book in the cozy fireplace lounge.
8. Get outside
Want to mix up your workout routine with some cross-training activity? Hit the links at the Richmond Hill Golf Club or lace up your skates for a spin on the ice rink at the Elvis Stojko Arena. If you're craving some time in nature, take a walk through the scenic Oak Ridges Moraine nearby and explore rolling hills, forests, meadows, lakes. Want even more of a challenge? Outdoor daredevils can test their upper body strength at Richmond Hill's Eyer Homestead Ropes Challenge Course, a tactical outdoor ropes course with a climbing wall set on a 1.75-acre park.
Sweat it out, get stronger, stretch your muscles and be inspired to take your health and fitness goals to the next level at 8888 Yonge. With modern and convenient fitness facilities and luxurious spa-inspired wellness zones, this new urban community coming soon to Richmond Hill is the perfect place to elevate your mind, body and soul.

Register with us today to learn more about 8888 Yonge, coming soon to Richmond Hill. Don't forget to follow us on Facebook , Twitter, and Instagram for regular updates.